Dental Financial Options – San Francisco CA
At Marina Tooth Fairy Dental in San Francisco, we believe that affordable dental care should be available to everyone. Your dental hygiene & the pride you take in your smile should never be lessened due to whether or not you have dental insurance.
Stay Healthy With Preventive Dentistry
While most insured families receive the majority of preventive services for FREE, we offer many different payment options so uninsured patients can still receive the dental care they need & in a manner that fits their budget. Insured & uninsured patients alike have a number of financing options available to them including:
Convenient Payment Plans
0% Financing Available
In-Office Dental Plans
Affordable Dental Care for All
We stand behind the idea that affordable dental care should be a right for everyone & you can rest assured that we will work with you to ensure you pay as little out-of-pocket as possible for all services. Regardless of whether or not you have insurance, give us a call today to learn more about the affordable dental care options available to you.
We Love Your Insurance!
We do whatever it takes to ensure you pay as little out-of-pocket as possible!
---
FREE Brighter, Whiter Cleaning for Adults
FREE Cleaning & Exam for Children
FREE Exam for Adults
FREE Second Opinion Evaluation
At Marina Tooth Fairy Dental, we have convenient hours that won't make you miss work or school. In fact, we can see you this week & you'll be in & out within an hour.
The configuration shown above, including the use of 'FREE Brighter, Whiter Cleaning' & '$0 Brighter, Whiter Cleaning', is reserved & strictly copyrighted for chrisad clients in good standing. © chrisad, Marin Co., CA all rights reserved.
Insurance
Our office is committed to helping you maximize your insurance benefits. Because insurance policies vary greatly, we can only estimate your coverage in good faith, but cannot guarantee coverage due to the complexities of insurance contracts. Your estimated patient portion must be paid at the time of service. As a service to our patients, we will bill insurance companies for services and allow them 45 days to render payment. After 60 days, you are responsible for the entire balance, paid in full. If you have any questions, our courteous staff is always available to answer them.
No Insurance, No Problem!
Marina Tooth Fairy Dental Membership Club's got you covered with
Premiums for About $1/day
---
Financing
Here at Marina Tooth Fairy Dental we accept Visa, Mastercard, and personal checks. For your convenience, we also work with a healthcare financing program called CareCredit. Through this program, you can be eligible for up to $25,000. You can apply online or in our office.
CareCredit Financing Available*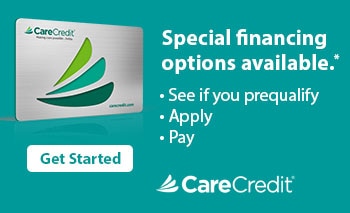 *Subject to credit approval. Minimum monthly payment required. See CareCredit provider for details.
---